| | | |
| --- | --- | --- |
| Class | Boarding time | Depth |
| Beginner-advanced | 10 minutes | 15-20m |
Shipwrech:A tugboat  depth 18m,length 28m,width 6m,height 8m
In the diving area of the mainland of Japan, such big shipwrek is rare and many divers are overwhelmed by the presence.
Since the buoy is installed in "Shipwreck", beginners can also go down easily.

↑shipwreck&big school oh fish

---
| | | |
| --- | --- | --- |
| Class | Boarding time | Depth |
| Beginner-advanced | 8 minutes | 5-20m |
A shelf (the top depth7 m, bottoms17m) is extended northwest,there is a with 15 m of breadth, 3 m in height, and a depth of 6 m giant arch in a depth of 15 m on the way.
In the inside of an arch, there are several kinds of fish when closely like curtain.
The numerousness of the fish which are out of an arch is a must.
Recommendation site of our shop.It is No.1 also as Request site.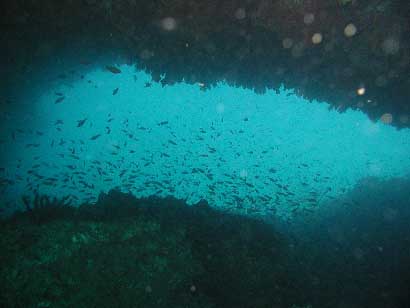 ↑Big arch:15x3x6m

---
| | | |
| --- | --- | --- |
| Class | Boarding time | Depth |
| Beginner | 10 minutes | 5-15m |
---
| | | |
| --- | --- | --- |
| Class | Boarding time | Depth |
| Middle | 15 minutes | 15-28m |
---
| | | |
| --- | --- | --- |
| Class | Boarding time | Depth |
| Middle | 12 minutes | 5-15m |
---
| | | |
| --- | --- | --- |
| Class | Boarding time | Depth |
| Beginner-advanced | 25 minutes | 5-30m |
---
| | | |
| --- | --- | --- |
| Class | Boarding time | Depth |
| Beginner | 5 minutes | 5-13m |
---
| | | |
| --- | --- | --- |
| Class | Boarding time | Depth |
| Beginner | 15 minutes | 5-13m |
---
| | | |
| --- | --- | --- |
| Class | Boarding time | Depth |
| Beginner-advanced | 12 minutes | 5-30m |
---
| | | |
| --- | --- | --- |
| Class | Boarding time | Depth |
| Beginner | 20 minutes | 5-15m |
---
| | | |
| --- | --- | --- |
| Class | | Depth |
| Beginner | Front shop | 1-10m |
---